Save On Your Energy Costs with DIRECTAIR®, Compressed Air as a Utility Service
At OTC Technologies, we are passionate about embracing sustainable practices. As the world faces pressing environmental challenges, we recognize the urgent need for green energy solutions and increased efficiency. At OTC Industrial Technologies, we strive to lead the way in creating a greener future by implementing cutting-edge technologies. Our dedicated team of experts is committed to developing innovative and eco-friendly solutions that not only reduce carbon footprint but also maximize energy efficiency.
Our DIRECTAIR® product offers continuous savings in the form of lower energy costs associated with compressed air while having a softer footprint on the environment by reducing carbon emissions. DIRECTAIR® offers the most reliable, cost-effective, and sustainable compressed air solutions available anywhere.
Businesses who implement DIRECTAIR® save an average between 35% to 50% on their annual energy costs.
Every DIRECTAIR® facility is equipped with the most energy-efficient equipment and controls available.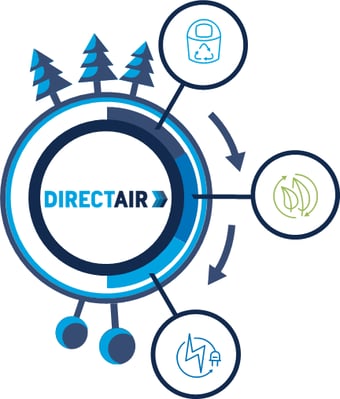 Making Sustainable Choices Affordable & Accessible
We are here to help our customers gain access to a wide range of incentives, rebates, and discounts for their energy-efficient DIRECTAIR® systems by partnering with local utilities. Our team will assist through the process, helping you navigate the available programs and maximize your savings. We understand the importance of reducing energy consumption and costs, and through these partnerships, we aim to make sustainable choices more affordable and accessible. You can trust OTC to not only provide top-notch air compressor solutions but also help you unlock valuable financial benefits.
REDUCE WASTE
Reduce your equipment maintenance costs with DIRECTAIR® services. Our team of experts will maintain your compressed air systems and monitor your uptime and air quality.
Create a smaller carbon footprint with the reduction of landfill waste contribution, less product scrap, and minimized logistic support.
PRODUCE GREEN ENERGY
Improve your green energy efficiency rates with our DIRECTAIR® energy-efficient compressed air equipment. On average, most customers experience 35-50% energy cost savings after implementing DIRECTAIR®.
Recoup cost savings for cooling water pumps, water treatment chemicals, replacement parts, repair services, and more when utilizing DIRECTAIR®.
IMPLEMENT OPERATIONAL EFFICIENCY
With DIRECTAIR® you can expect a consistent supply of clean, dry air that you can rely on 24/7.
Once you have DIRECTAIR® utility services you can focus on optimizing your production equipment without the need or a dedicated support team to maintain your compressed air.
Ready to learn more about how DIRECTAIR® can save you 35-50% on energy costs?
Fill out our form and we'll contact you for an energy audit free of charge!